It only seems that consumer demand for social network engagement today is completely shut down by giants like Facebook, Instagram, Twitter, and such. If that scared creative young people, TikTok, Pinterest, and others wouldn't have emerged. The key to success in how to make a social media app is the right idea, the unmet need. And, if you figure out those, the new social media project is simply doomed to success.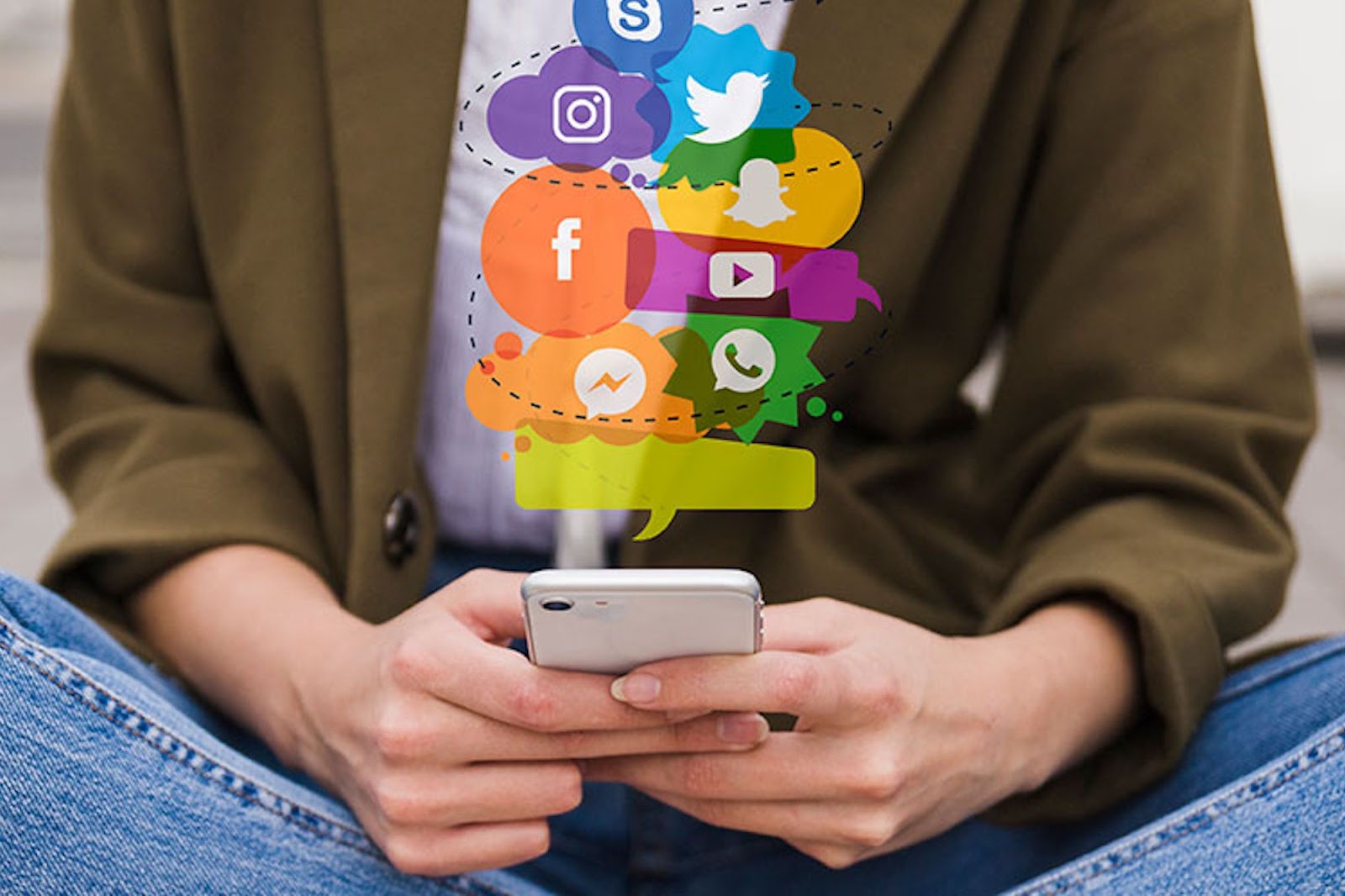 The average webmaster is unlikely to create something like Facebook. Yes, and there is no point in it – a niche general thematic social media is filled. But highly specialized topics may well be the basis of a startup. People tend to be grouped by their interests, and, more often, they choose a separate, isolated platform for that. This is more comfortable – no unwanted information can get into the fenced-off area, the risk of meeting with haters is reduced, and the chance of meeting like-minded people, and maybe even friends, is several times greater.
When the direction is set, to make a social media app, it is necessary to create a portrait of the user. How accurate this portrait is will determine the design, the functionality of the project, and therefore how to monetize it.
At this stage, it is worth lingering in order to eliminate errors. The appearance and internal content of the social network are determined by its users, not the developer. The developer must meet these requirements. If this doesn't happen, the user will leave the social network. And with it, dreams of super incomes.
Social media for minimalists can't be the same as a network for shopping enthusiasts. A keen hunter will be uncomfortable with an interface designed in the favorite style of "moms on maternity leave." The introvert will not linger for a minute in a place where voice ads and flashing banners keep popping up. Therefore, determining your potential target audience is the first basis for success in making a social media app.
The work of defining your target audience can be done on your own, for example, through surveys. You can order this work from marketers.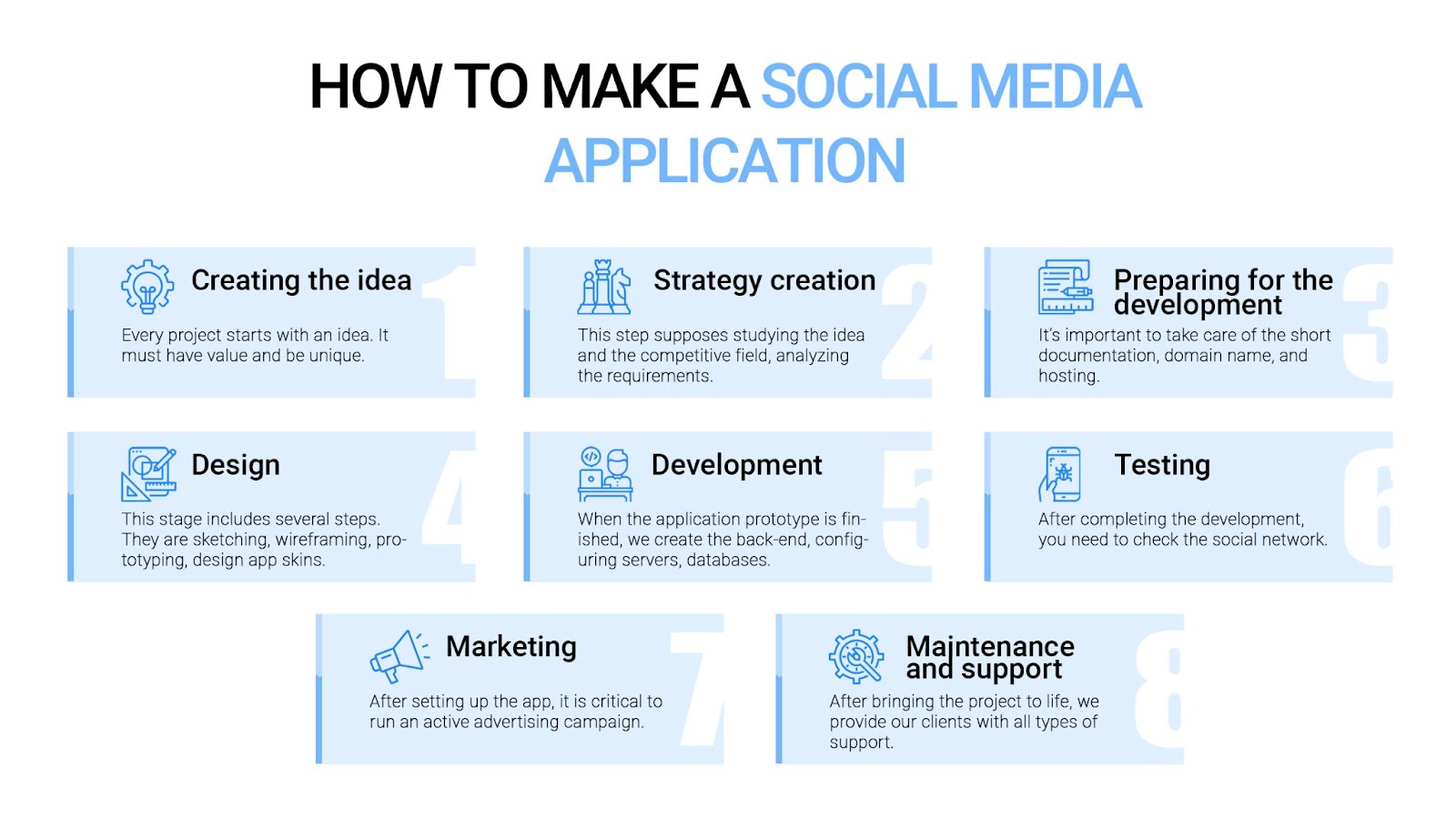 One of the most important components when you make a social media app is the choice of technology. Here it is worth opening a plan for the development of the project and answering the questions.
"Will this solution be able to handle a large flow of visitors?"
"Is there an opportunity for the project to scale and grow if this technology is selected?"
"Does it ensure the security of users' personal data?"
Next, don't forget about a significant step in the project – promotion. When you make a social media app, the point is to attract users and build a community. Your product needs to be known, heard, and read about. Strange as it may seem, you can use other social networks for this purpose. The marketing strategy should give an accurate description and be aimed at your target audience. There is no need to advertise for the sake of advertising.
The focus here should be on convenience. Managing, registering, and working with the app should be intuitive. Let's be honest; if a customer has trouble uploading a photo or video from yet another fishing trip to the Faroe Islands, your product is more likely to take a trip to the shores of the basket. Pay attention to app design and feedback analysis. Then you can make a social media app for people and for their needs.
If you don't have expertise in development, it's worth turning to an experienced team. They will help you save time and money, as they have the knowledge and understanding of the right approach to creating digital products.
All at once is not the best choice.
The main task of social media is useful networking, communicating, uniting, and creating joint projects. So, the main functionality should be aimed at implementing these tasks. Suppose you have a project for experts in a particular field. They must communicate with each other, have a profile with a detailed description of their experience and activity, conduct live broadcasts, and arrange video conferences. It follows that the ability to process photos and video are not the main components of the product, as in the same Instagram. It is by having a detailed analysis and possibilities, which the future social network provides, that you determine the list of main functions. They are worth being included in MVP development and evaluating the viability of the idea.
Don't forget the main principle of such projects, and you need to provide not trending tools, not everything. You need to concentrate on satisfying the user and on solving his problem when you make a social media app. Create an atmosphere of comfort so that he doesn't want to leave the virtual world.
Success in numbers
Don't give up on analysis. Let us remember Facebook again. Without investment, this project wouldn't have been able to reach the leading positions in the world. And what do venture capital funds and business angels like and understand most? That's right, the language of numbers. That's why when you make a social media app, you have to research it on different parameters. Competent analytics help you to make decisions on the next steps and adjust the development process. Here are the main ones:
Retention Rate. It shows how many users return to the mobile app. Suppose in March, the app for fishermen was downloaded by 3000 people, and in April, there are 600 users remaining. Accordingly, the RR indicator equals 20%.
Daily Active Users (DAU) – who interact with the program every day. And this is especially significant once you make a social media app. After all, the very point of such a product is to connect users on a daily basis. If your audience regularly spends time on your program, it means you've made a really cool and useful product.
There's a whole group of Monthly Active Users (MAU) metrics, Stickiness. The latter metric shows how often the audience comes back to the app. Take social media for moms where they discuss babies, feeding, parenting, and share contacts of trusted doctors. You have to keep track of the dynamics. If the figure is decreasing, it means that the product has lost the satisfaction of users' interests.
Don't forget the indicators for evaluating the effectiveness of advertising campaigns. This is also an important part of analytics because the marketing budget is about 25% of total project costs.
ARPU – Average Revenue Per User. For example, you can determine this metric since the project launch. It is enough to divide the total revenue by the total number of customers. Let's say the app brought in $3400 in revenue in its first month of operation, with 2,300 downloads. ARPU = 3400 / 2300 = $1.47.
In order to get the numbers to calculate the parameters, you will need special analytics systems. There are already built-in reports inside, which makes it easy to get essential data for further conclusions.
Global events are taking people more and more into the digital space. On the one hand, the possibility of live communication is disappearing; on the other hand, there is the probability of finding a kindred spirit of interest, a partner for a new project in any corner of the world. This erases limitations and boundaries. You make a social media app for users; you create an environment where they can realize their needs.